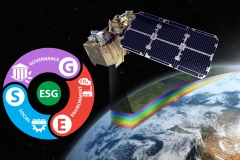 Sustainability SDG-ESG
The 2030 Agenda for Sustainable Development was adopted by all UN member states in 2015 as a universal call to action to end poverty, protect the planet and ensure peace and prosperity for all people.

However, the Agenda's 17 Sustainable Development Goals (SDGs) and their 169 targets need to be translated into tangible solutions. Closely related to the 17 UN SDG targets are the ESG scores and metrics.
The purpose of ESG (Environmental, Sustainability, Governance) is to encourage companies to improve and measure the impact of their actions.Public bodies and private companies are increasingly engaged in adopting strategic plans and practices to optimise sustainability in business operations and territorial plans. Financial institutions, investors and customers are becoming increasingly aware of their investment and purchasing decisions.

In this context, satellite-based geo-information offers an unprecedented opportunity for companies and entities pursuing their sustainability agenda. Earth observation data enable consistent and standardised measurements in the process of monitoring, reporting and verification of environmental performance.

Planetek, the strategic technology partner for your sustainability plans.
By leveraging 30 years of experience in the field, Planetek is fully committed with including in its value proposition products for ESG market areas. Most of the services developed by Planetek are able to foster the generation of information for Planet Earth resources' sustainable management.
Our data support environmental impact assessment, asset management related to natural resources, and natural management Entities conservation status evaluation.
Planetek's service offering includes:
Offsetting
Green Accounting
Asset Management
Intelligence, Pollution Monitoring
Oil Spill Detection
Disaster Risk Assessment
Infrastructure Engineering Support