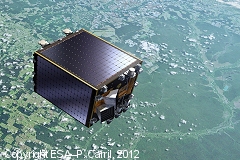 ON BOARD PROCESSING
Many research and development activities are recently moving towards the study of optimal systems to transfer the processing of satellite data from the earth (ground segment) to the space (space segment), through the development of so-called On-board Payload Data Processing (OPDP).
The current goal is to overcome the limitations in terms of memory bandwidth and On-board computation, by creating systems that provide end-users with geospatial information (not just data).
Some typical applications that can benefit from these developments are, for example, the automatic control of a constellation of satellites and the acquisition program, directly on-board and on the basis of information gathered from the previous acquired data, or the improvement in the capacity of observation of a phenomenon (such as the "oil spills" or illegal traffics) with much greater flexibility compared to classic ground segment workflows.
Our Space Solutions team is strongly committed in research activities in this field, by designing and developing open, modular and compact systems for on-board processing.
We are currently involved in the Space Payload Data Processing (SpacePDP) program, whose objective is to develop a hardware and software capable of supporting both standard tasks of space missions (sensors, control, management of mass storage devices, uplink and downlink) and both the specific tasks required by each mission.