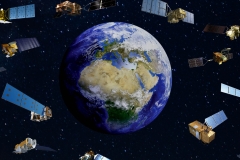 SPACE SEGMENT
From Planet Earth to the solar system and beyond. Planetek Italia expertise includes certainly Earth Observation and Remote Sensing technologies. These technologies are enriched and well mixed with specific Space technologies knowledge, that makes the company a leading provider of Space Systems among the Apulian Aerospace District.
Through our SpaceStream team we value our expertise operating in the Space segment and in the ground segment of satellite missions to support Earth observation, and human exploration of solar system (and beyond).
The reference clients are Space Agencies and cooperating organizations as major players of the aerospace industry. Main missions:
Italian Space Agency (COSMO-SkyMed, Platino, PRISMA missions);
European Space Agency (Copernicus Sentinel missions, Solar Orbiter, IRIDE constellation).
Our competences are in the design, development and integration of hardware and software infrastructures for the collection, processing and distribution of remotely sensed data, along the entire production chain: from Deep Space to Earth Observation; from Space Segment, to Ground Segment, and User Segment.
Our specific competences are on Systems and Software Engineering with strong verticalization on Space Mission Analysis and Design (SMAD).