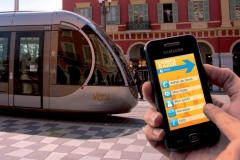 Infomobility
Almost all the companies that provide services to TPL, today, feature remote control systems for fleet (bus). These systems have been conceived, typically, with the objective of providing information to users in real time as well as supporting the monitoring, optimization and management of the service. Depending on their specific objective, they are based on a different technology.
Generally these systems capture with a sampling frequency variable, from a few seconds to a few minutes, the geolocation of the vehicle at a certain moment (date / hour / minute / second). These parameters are usually measured by GPS and transmitted to the central board with different types of communication systems (radio, GPRS, Wi- Fi) in real time or deferred.
The information content of the data acquired by remote control systems is, in hindsight, potentially huge. The information extracted from these data can be used for planning, management and monitoring of the entire urban mobility.
The bus remote control system of Local Public Transport (LPT) that provide updated data on the speed of the vehicles passing along the streets, in substance, is a part of the infrastructure that is the foundation of the smart city.