Corporate Impact Report 2022.
In April 2021, Planetek Italia has reinforced its commitment to promoting a generative business model pursuing higher standards of well-being for people and environmental protection, evolving into a "Benefit Company", and stating the purposes of common benefit in the corporate statute.
The well-being of people and environmental protection have characterized Planetek Italia since its foundation in 1994. For Planetek Italia, it means to adopt a business model that aims to operate in a responsible, sustainable and transparent way towards people, communities, the environment, cultural and social assets and activities, organizations and associations, and other stakeholders.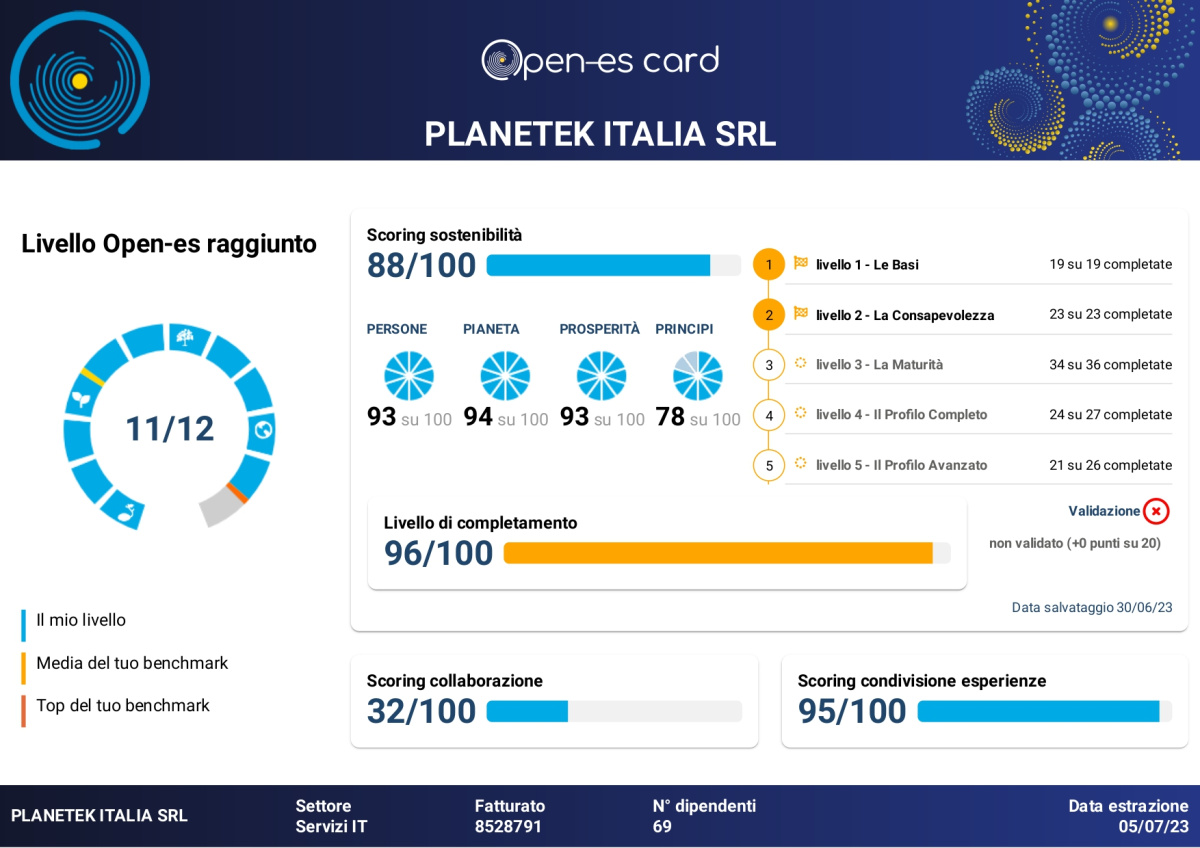 Since 2021, we have chosen to start coordinating and measuring our environmental, social and governance (ESG) performance according to standardised principles and evaluation systems.
Impact Report 2022
The sustainability assessment tool we have chosen is the Open-es digital platform, developed by Eni, Boston Consulting Group (BCG) and Google Cloud. Open-es allows companies to measure Sustainability Performance in 4 dimensions: People, Planet, Prosperity and Governance Principles.
The results of the first report realeased for the year 2021 showed an excellent sustainability performance level of Planetek Italia, already at the highest levels among companies in the ICT and Aerospace sector. In 2022, this performance was further improved.
Download and read the Corporate Impact Report 2022 (PDF - English)
Goals and activities
The main objectives of our sustainability plan will materialize in activities such as:
The promotion of initiatives for the development of an entrepreneurial culture based on the principles of corporate social responsibility;
The construction of stable and lasting relationships with the community in which we operate to nurture a harmonious development of the territory;
The organization of free training events and workshops aimed at creating synergies with local companies, encouraging meetings with young talents, stimulating innovation and research activities, and supporting the creation of new business initiatives;
The active support to environmental awareness promotion activities.
"Evolving Planetek Italia into a Benefit Company aims at reinforcing our idea of ​​generative business, in which the well-being of people and environmental sustainability are the pillars of our decisions", says Giovanni Sylos Labini, CEO and founding partner of Planetek Italia.
"With this choice, we want to give a tangible meaning to the Corporate Social Responsibility concept, and find the right balance between economic sustainability, which is based on profit, and social and environmental sustainability", says Mariella Pappalepore, President of the Board of Directors and founding partner of Planetek Italia.
Learn more: