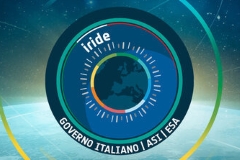 IRIDE programme
IRIDE is one of Europe's largest space programme for Earth observation and represents a major component of the NextGenerationEU dedicated to the development of space activities, supporting the ecological and digital transition.
Promoted by the Italian Government, the IRIDE programme will be implemented in Italy and completed by 2026 with the support of ESA and ASI for a total value of EUR 1.1 billion allocated under the National Plan for Recovery and Resilience (PNRR).
The programme will build an end-to-end system consisting of LEO satellite constellations (Upstream Segment), the ground operational infrastructure (Downstream Segment) and geospatial services for Public Administration (Service Segment) at national and European levels, and for private customers.
The IRIDE constellation will be unique in its kind, being based on a number of different sensing instruments and technologies, ranging from microwave imaging (through Synthetic Aperture Radar, SAR), to optical imaging at various spatial resolutions (from high to medium resolution) and in different frequency ranges, from panchromatic, to multispectral, to hyperspectral, to infrared bands.
Planetek Italia's role in IRIDE
Planetek Italia will play an active role in the design and development of different components of the system (upstream, downstream and services), acting both as prime contractor in different work lots and collaborating with the various industrial teams in charge of developing other components.
Other IRIDE components involving Planetek Italia:
Learn more about the Italian IRIDE constellation