IRIDE is one of Europe's largest space programme for Earth observation and represents a major component of the NextGenerationEU dedicated to the development of space activities, supporting the ecological and digital transition.
Promoted by the Italian Government, the IRIDE programme will be implemented in Italy and completed by 2026 with the support of ESA and ASI for a total value of EUR 1.1 billion allocated under the National Plan for Recovery and Resilience (PNRR).
The programme will build an end-to-end system consisting of LEO satellite constellations (Upstream Segment), the ground operational infrastructure (Downstream Segment) and geospatial services for Public Administration (Service Segment) at national and European levels, and for private customers.
The IRIDE constellation will be unique in its kind, being based on a number of different sensing instruments and technologies, ranging from microwave imaging (through Synthetic Aperture Radar, SAR), to optical imaging at various spatial resolutions (from high to medium resolution) and in different frequency ranges, from panchromatic, to multispectral, to hyperspectral, to infrared bands.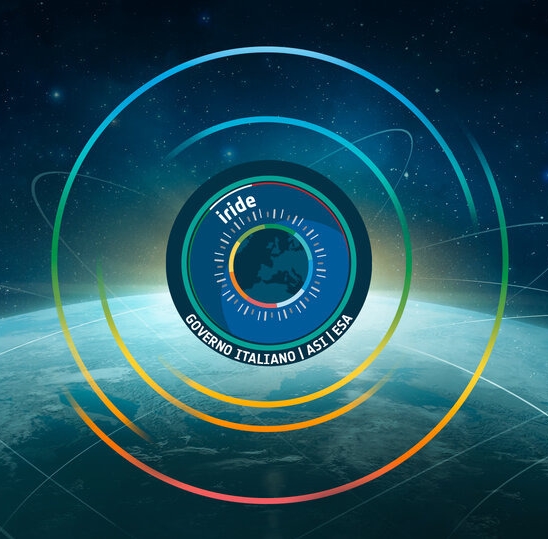 The constellation will help the Civil Protection Department and other administrations to tackle hydrogeological instability and fires, protect coastlines and monitor critical infrastructures, air quality and weather conditions. A system that will provide multi-sensor and multi-weather monitoring, which, with the help of artificial intelligence techniques, will be able to support even rapid analyses for various types of emergencies: from droughts to fires, from water saving in agriculture to the monitoring of waste disposal and pollutant discharges. In particular, IRIDE will offer 8 macro-services related to marine and coastal monitoring, air quality, land movement monitoring, land cover, hydro weather climate, water resource monitoring, emergency management and security.
Planetek Italia's role in IRIDE
Planetek Italia will play an active role in the design and development of different components of the system (upstream, downstream and services), acting both as prime contractor in different work lots and collaborating with the various industrial teams in charge of developing other components.
IRIDE components involving Planetek Italia:
| Component | DESCRIPTION |
| --- | --- |
| | Engineering, Validation and Provision of command and control, orbital determination and collision avoidance, payload data acquisition, monitoring and planning functions for the IRIDE constellation satellites. |
| | Development of the platform for IRIDE satellite data collection, data processing for the study of natural phenomena, and free data distribution to public and private organisations. |
| | Infrastructure for access to IRIDE data and services by institutional bodies and business customers |
| | Implementation of monitoring and mapping services for Central Public Administration (PAC) users designed to support applications in the fields of water management, weather/climate, air quality, land use, agriculture and forestry, ground motion and emergency/security. |
| | Implementation of monitoring and mapping services of soil movement, burned areas and land cover change for Local Public Administration (LPA) users |
|   |   |
Osiride Consortium: Operational solutions for Iride.
The IRIDE programme is an important challenge for the Italian aerospace system, which Planetek Italia has decided to tackle with a shared and coherent vision together with three other high-profile players in the Italian ICT and aerospace sector. Tackling the challenges of the Earth observation programme with cutting-edge technology: this is the goal that prompted Planetek Italia, D-Orbit, Exprivia, and Serco Italia to set up OSIRIDE (Operational Solutions for IRIDE), the consortium that will generate ideas by fostering the emergence of start-ups and innovative approaches for the development of the Iride satellite constellation. OSIRIDE will also extend its benefits to a broad ecosystem of SMEs and start-ups in all Italian regions, thus ensuring innovation and further boosting the growth of aerospace districts.
Learn more about Osiride consortium.
IRIDE will create job opportunities for young talents
The IRIDE programme is significantly contributing to the growth of the Italian space segment and has fostered numerous employment opportunities for young talents, researchers and professionals with skills in various scientific disciplines such as aerospace, computer science, remote sensing, earth sciences, physics, mathematics, agriculture, natural sciences and engineering.

Planetek Academy is offering young talents the chance to put themselves to the test by taking part in a free course on the development of algorithms for processing satellite data in a cloud environment, which will be held in Bari, Italy, next 22-24 May 2023. At the end of the course it will be possible to meet the company HR manager to apply for one of the numerous job opportunities offered by Planetek Italia.
Learn more about the Italian IRIDE constellation: