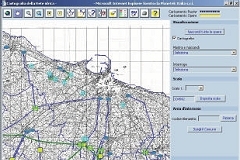 The aim of the project is the realization of a WEB-GIS System for an integrated management of the technological networks, addressed to companies or organizations involved in the management of water, electricity supplies and gas networks.
The goal is to build a Basic Archive and to provide a set of tools to manage also via the web all the data related to technological networks. The data are both the cartographic or geometric part of any hydraulic or sewer works (dimensions, position and exact geocoding), and their alphanumeric and operational part (hydraulic discharge, construction material, functional relationships etc.).

Afterwards, through the integration of such data with those deriving from the company information system, and thanks to the use of standard and open technologies, it is possible to realize integrated tools that may allow the improvement of the operational processes in the company.
The development of the system has been carried out in accordance to the laws regulating the management of technological services and, particularly, to the Directive of the Presidency of the Counsel Of Ministers - Department Of Urban Areas - March 3, 1999: Rational setup in the subsoil of the technological fittings (GU n. 58 of the March 11, 1999) that indicates the modalities for the realization and sharing of geographic databases.