Recipe: Take a satellite image every 6 days, add a cartographic base and a pinch of ancillary data, all strictly available in open data mode. Let's start processing algorithms, and we return the results in the form of maps, indicators and reports. All served in the cloud accessible by subscription.
Result: Rheticus®.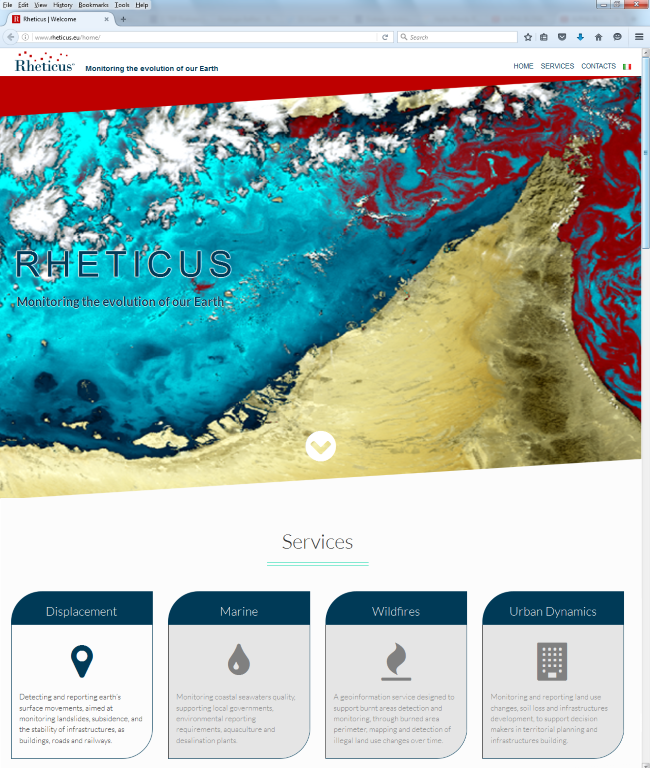 This is the recipe of the new platform developed by Planetek, which creates application services, based on open data - and giving priority to geospatial ones-, such as satellite images, basic and thematic cartography, and environmental and socio-cultural data available online in the form of files and/or services. Better if Linked!

The Rheticus® name itself suggest an idea of the nature of this platform. Rheticus was, in fact, the only student of Copernicus, the scientist whos name has been given to the European Programme Copernicus.

it is easy, then, the link of Rheticus® platform, when using satellite data, to the Copernicus Sentinels, which the European Commission made available in open data mode.

The Sentinels are of 6 different types. The Sentinels 1, 2 and 3 are already in orbit and are providing images of the whole globe with a frequency of 6 days, if we consider the two Sentinel-1 satellites.

Thanks to these data, Rheticus® is capable of delivering continuous monitoring services of Earth's surface transformation phenomena, as the urban evolution, landslides, fires, or the quality of marine waters.

Whether it's land monitoring or infrastructure, perimeter of the fires or monitoring the quality of coastal marine waters, Rheticus® works as a big hub that processes the data automatically to deliver geoinformation services ready-to-use in users' final applications.

Engineering companies, public and private organizations, individual professionals, thanks to this new system can enter into a new mode of including geographic information in their business. Dynamic focused and continuously up to date information, available whenever you need through a simple service subscription at very low cost.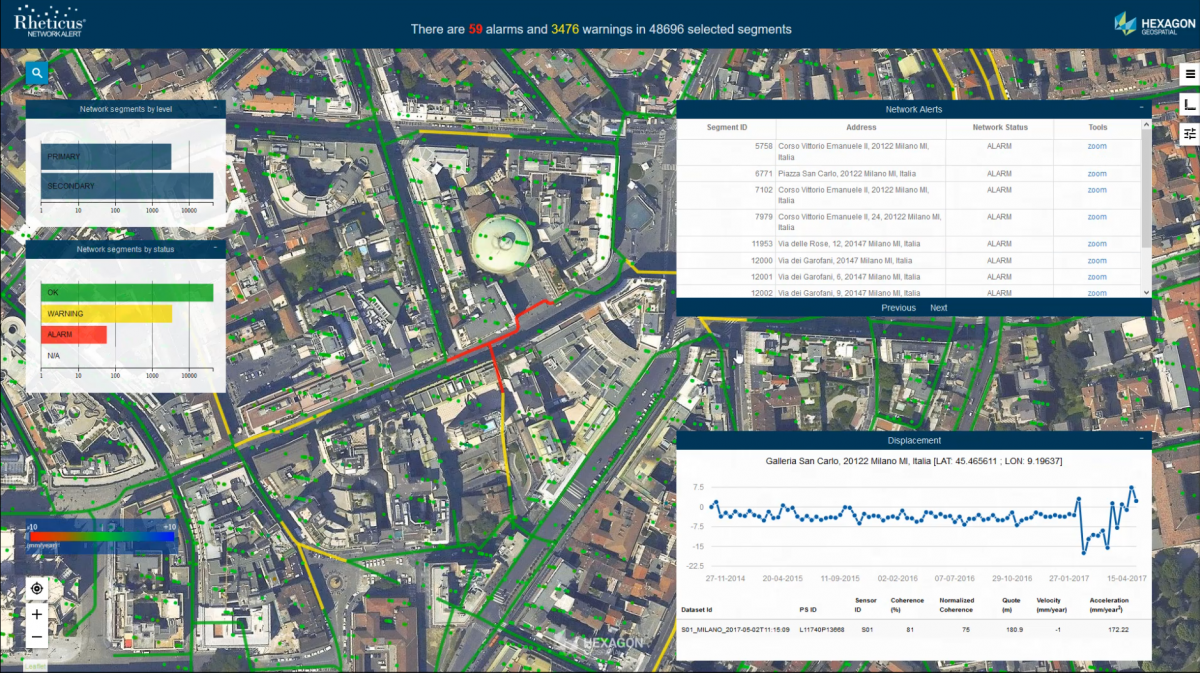 The first active service, launched with the publication of the portal, is Rheticus® Displacement, the monitoring service of Earth's surface movements related to landslides or subsidence, and monitoring the stability of buildings and infrastructures, such as roads, railways, pipelines and engineering works.

From July 2016, it is also active Rheticus® Marine, a set of information services, which helps National and local organization, together with private organizations, in monitoring the quality of coastal marine waters and the monitoring of marine resources (aquaculture, plants, etc.).

Discover the Rheticus® portal and watch the demo data available.
A new Smart M.App: Rheticus® Network Alert
During the HxGN Live 2017 Conference Planetek Italia has launched its Rheticus Network Alert Smart M.App, a dynamic geo-analytics service tool for monitoring ground instability and displacements in water/sewer pipeline networks. Watch Rheticus® Network Alert DEMO
Awards
Don't miss the presentation of the Rheticus® services and its case histories at HxGN Live Conference 2017, Las Vegas, Nevada, 13-16 June 2017.
short URL for this article: http://goo.gl/qI7ap3