Planetek Italia awarded as one Italy's most competitive and reliable companies and prized with the High Honour for Financial Statement by Premio Industria Felix.
The award ceremony took place on 29 June in Acaya (Le) during the 52nd Industria Felix event "Basilicata, Calabria, Molise, Puglia and Sicily that compete" edition.
The Scientific Committee, coordinated by Cesare Pozzi, Professor at Luiss Guido Carli University, awarded Planetek Italia the prize for "Best innovative SME for management performance and financial reliability with registered office in the Puglia region".
The award was further enriched by the Green certificate, in consideration of the Sustainability Report and ESG rating achieved through Eni's Open-es assessment tool.
"Being on the list of the most virtuous companies in Italy is a great satisfaction for us, and a confirmation of the quality of our work over thirty years of history," says Mariella Pappalepore, CFO and founder of Planetek Italia, "Since 1994, our vision has been to create an agile company, capable of competing in a new and constantly evolving sector such as space, investing in a growth model geared to combining economic, social and environmental sustainability.".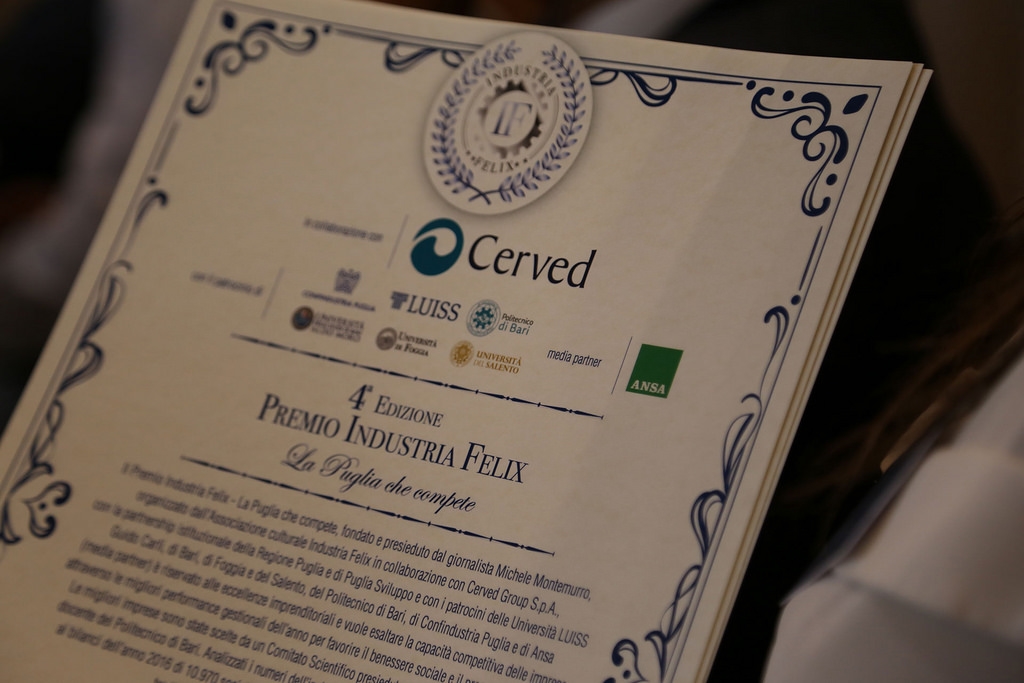 The Industria Felix Prize
The Industria Felix event is organised by Industria Felix Magazine, supplement of Il Sole 24 Ore, in collaboration with Cerved, Luiss Guido Carli University, Associazione culturale Industria Felix, with the support of Confindustria.
The survey was carried out by the scientific committee, which analysed and selected a total of around 700,000 companies with registered offices in Italy, identifying the companies that in their respective categories recorded among the best mol, with a profit, a positive roe, a financial expense/mol ratio of less than 50%, a delta of employees equal to or greater than the previous year, and a Cerved Group Score of solvency or financial security (binding parameters).
The High Honours, reserved for the best management performance, are awarded for each province and region on the basis of objective criteria to companies that are financially reliable, deemed solvent or secure with respect to the Cerved Group Score Impact, innovative SMEs, women's companies, under 40, internationally oriented, foreign-led, Small, Medium and Large enterprises, and those by sector at regional level. In the national edition, only the best companies by sectors are awarded. The Green Parchment is awarded on the basis of aspects related to ESG values, the relevant rating, and thus to companies that have a Sustainability Report/Report or a Non-Financial Statement that refers to the guidelines of the GRI (Global Reporting Initiative) standards.
Planetek Italia: a fast-growing space business, attentive to welfare and sustainable development.
In 2023, Planetek Italia was also confirmed as one of the most virtuous companies according to Welfare Index PMI, being one of the 121 Welfare Champion 2022 and ranked third in the Industry sector. Generali's Welfare Index PMI is the first index to assess the level of corporate welfare.
Since 2021, Planetek Italia has adopted the status of "Benefit Company" and has included in its articles of association objectives of common benefit. A business model oriented to combine economic, social and environmental sustainability. In the Sustainability Report 2021, the results of the Open-es assessment, a tool devised by Eni, Boston Consulting Group (BCG) and Google Cloud to measure Sustainability Performance, show excellent results, positioning Planetek at the highest level among companies in the ICT and Aerospace sectors.
Initiatives were also implemented for the wellbeing and safety of workers, activating smart working and assisting staff throughout the period in organising their work in maximum safety, even remotely.
Further details on Industria Felix Magazine.