The EUGENIUS association held the final workshop of the H2020 EUGENIUS project the 23rd of October in Brussels.
Planetek Italia, cofounder of the EUGENIUS Association, joined the seven partners to present the EUGENIUS network concepts, the regional digital platforms, and a market assessment study to ESA, DG Grow, DG RTD, Nereus and some regions people. Aimed to promote the Copernicus services at Regional level, the project involved more than 20 users in different domain.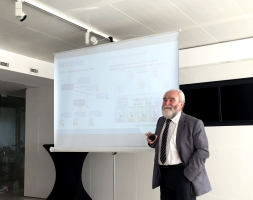 The overall conclusions are very positive:
End-users are satisfied with the proposed distant applicative tools thanks to a regional contact.
There definitely is a sustainable market for all applicative tools in the network.
All was illustrated day with success stories of use cases in Occitanie and Grand-Est (France), Greece, Wallonia (Belgium), Puglia (Italy).
For the future, commercial agreements and enlargement of the association are ongoing.
All this was made possible thanks to the Apulia Region Bureau in Brussels that hosted the meeting.
The members of the EUGENIUS project are: TerraNIS (Toulouse, France), Planetek (Bari, Italy), SPACEBEL (Liège, Belgium), Capital Hightech (Bordeaux, France), Terraspatium (Athens, Greece).
Learn more about the EUGENIUS Association