The public sewerage network of Milan runs for approximately 1500 km. MM SpA, the managing company of Integrated Water and Wastewater Services of the City of Milan, has used the Rheticus® platform to identify possible surface movements caused by structural defects of its collector. Rheticus® services are available worldwide through a growing network of Authorized Distributors.
The public sewerage network of Milan runs for approximately 1500 km. MM SpA (former Metropolitana Milanese SpA), the managing company of Integrated Water and Wastewater Services of the City of Milan, had been searching for a method to quickly detect ground surface movements caused by the structural defect of its collector that could affect the area above the primary network and adjacent areas.
Satellite radar interferometry was considered the most accurate and affordable survey method to prevent and identify possible failures of the sewage system, even in relation to the high traffic volume of metropolitan cities like Milan.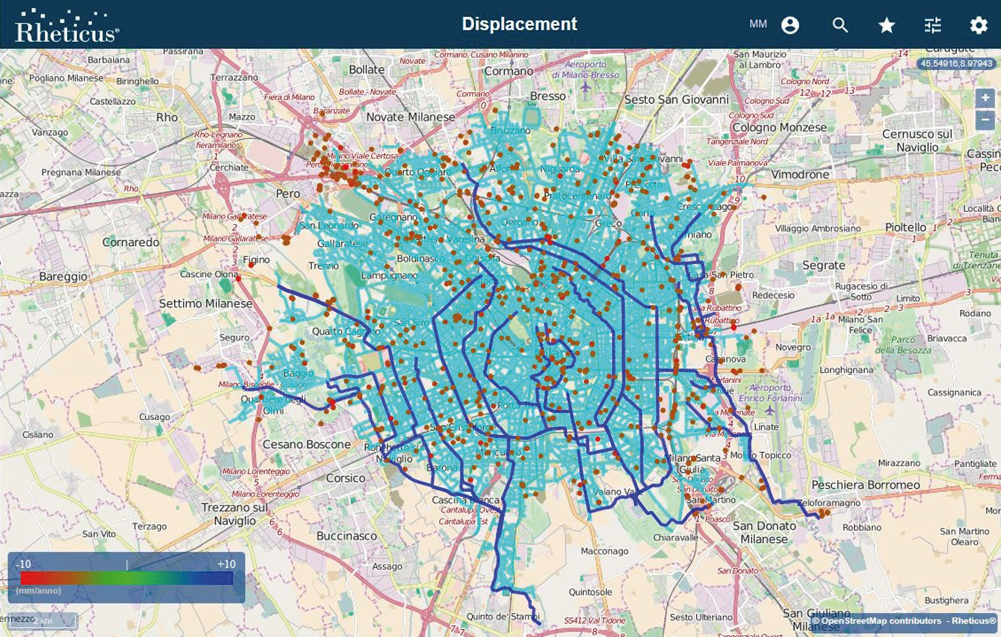 Thanks to the Rheticus® platform (www.rheticus.eu) and its geoinformation service Rheticus® Displacement, which processes the interferometric data of Sentinel satellites, 50 points with sensitive sub-vertical movements on 24 roads with heavy traffic were identified and will be investigated in a detailed field survey. (Read and download the case history of MM SpA)
The Rheticus® cloud-based platform provides continuous monitoring services of the Earth's surface, ranging from the stability of infrastructures (dams, roads, pipelines, etc.), slope stability and subsidence, quality of coastal waters, forest fires, and anthropic changes to the territory.
The Rheticus® Displacement geoinformation service offers monthly monitoring of millimetric displacements of the ground surface, landslide areas, the stability of infrastructures, and subsidence due to groundwater  withdrawal/entry or from the excavation of mines and tunnels.
Rheticus® Displacement provides a yearly historical analysis with monthly updates.
This service was adopted by numerous customers in various application areas after only its first months of operation.
Two success stories:
ANAS: analysis of slope stability to support planning, design and monitoring of roads.
MM SpA (formerly Metropolitan Milanesi): analysis of the instability of roads overlying pipelines for the detection of leaks in the water and sewage supply network.
Do you want to know more? Ask Planetek or our Rheticus® Authorized Distributor Network
Rheticus® services are standardized and ready to assist a wide range of private and public organizations in solving problems anywhere in our world. This is why, Planetek Italia is building a Network of Authorized Distributors, who will operate close to client's geographic location.
Rheticus® Authorized Distributors are: GeoSolutions Consulting Inc. (Central America); International Integrated Environmental Services Ltd.       (Kuwait); Gjeo-Vjosa sh.p.k. (Albania); The Wroclaw Institute (Poland); Kaliopa d.o.o. (Slovenia). Other agreements are on-going.
Visit www.rheticus.eu  for more information and for a monitoring service demo featuring Sentinel satellite data.
The Rheticus® services and its case histories will be showcased at the following events:
ENGAGE 2017, DigitalGlobe's forum, London, UK, 25-26 April, 2017.
Servizi a Rete Tour 2017, Turin, Italy, 17-18 May, 2017.
HxGN Live Conference 2017, Las Vegas, Nevada, 13-16 June 2017.