Planetek Italia is pleased to announce that The Wroclaw Institute has been appointed as Authorized Distributor for the reselling of the Earth monitoring services offered by its cloud platform -  Rheticus®.
Contract grants to The Wroclaw Institute the exclusive right to sell Rheticus® satellite processing services to the customers located in Poland. Services available through the Rheticus® platform allow the users to monitor the Earth surface evolution. It includes monitoring of earth crust subsidence, urban dynamics, forest fires hazards, costal seawater quality as well as many more in the near future.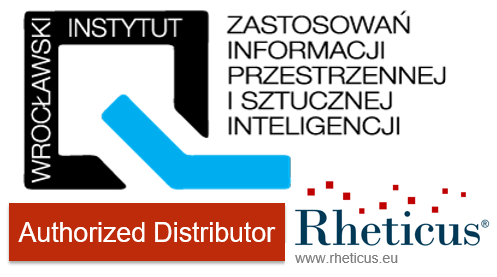 The Wroclaw Institute of Spatial Information and Artificial Intelligence is Wroclaw, Poland based technology company focused on knowledge engineering, data exploration and intelligent GIS.  The Wroclaw Institute provids products, services and solutions based on cutting-edge scientific and technological achievements. (www.wizipisi.pl)
After signing the contract, Institute's CEO – Dr. Adam Iwaniak said: "Uniqueness of Planetek's Rheticus® platform lays in its comprehensive and consistent approach to Earth surface analysing. Unlike others they provide wide range of services available 24/7, perfect for consumption in customer's IT systems. We are happy to offer this sophisticated solution to our customers in Poland who understand how critical reliability of the service is, for long term success of their projects and operations."
The Planetek Italia CEO, Mr Giovanni Sylos Labini added: "We are excited to start the partnership with The Wroclaw Institute. Born and strengthened under the Hexagon Geospatial network, this cooperation opens new opportunities to develop and deliver cutting-edge solutions to our markets. We also look forward to integrating the Rheticus® monitoring services in Hexagon Geospatial Smart M.Apps. Rheticus® will now support professionals and decision makers in Poland, relying on the sound professional support of our partners."
Rheticus® is cloud-based geoinformation service platform, designed to automatically process satellite data and other data sources. It delivers fresh and accurate data and information for monitoring of the earth's surface evolution. Rheticus® platform is a perfect solution for organizations dealing in their operations with natural environment concerns like mining, heavy industry, road, rail utility construction and operations, environmental and forestry agencies and local government, etc.
Visit www.rheticus.eu and the description page on this website to discover how it works and navigate through the LIVE DEMO data from Copernicus Sentinel satellites.