150+ geospatial Apps were submitted globally to the Hexagon Geospatial competition, IGNITE, and about seven of them are from Italy.
Planetek is a candidate for entering the final 20 Apps.
Your support is essential to help Planetek being nominated finalist of the IGNITE competition.
Vote now our App "Satellite Displacement Monitoring", through this link https://herox.com/ignite/entry/2719
Votes are open until May 16, 2016. To discover the competition visit https://herox.com/ignite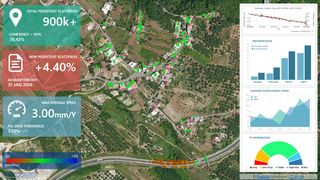 As a Hexagon Geospatial partner, Planetek Italia promoted the IGNITE Competition in Italy, organizing also a dedicated event in Rome, stimulating the communities of developers and professionals in geospatial sector and supporting those who were interested in developing their own app.
The app submitted, will be developed using the innovative platform on the Cloud Hexagon Smart M.App.
Vote now your favorite Smart M.App!
Here following a short list of the seven Italian Apps, eligible to be finalist, among them also the one developed by Planetek.
IGNITE Competition Webcast
What is the IGNITE competition?
What are and how to use Hexagon Smart M.Apps and M.App Studio to build your own App?