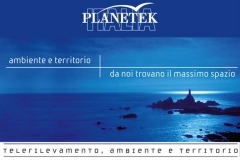 About us
Planetek Italia S.r.l. is a leading multidisciplinary Geographical Information Services (GIS) and Earth Observation consultancy company, which focus's on information land management.
About us

Our history and our future
In 1994 four young entrepreneurs founded Planetek Italia and based their activities in the technological Park of Tecnopolis in Valenzano, Bari (Italy).

Planetek Italia Group
Planetek Italia is truly concerned in sustaining a strategy of network knowledge and extended management of its manufacturing processes, where specialised skills and competencies can increase in value. A strategy that conjugates higher specialisation, from Earth Observation to Geographic Information Systems, and innovative or more efficient integration among systems and technologies.